Commercial Carpet Cleaning Services
Commercial Carpet Cleaning Services near Lincoln NE
Lincoln Office Cleaning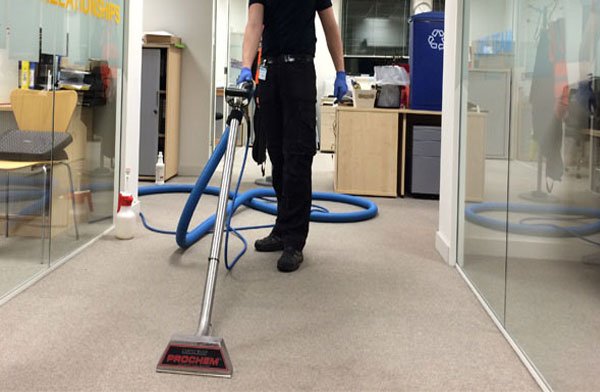 If you've ever walked barefoot across a cold tile or wood floor, you likely longed for a warm carpet beneath your feet. They feel wonderful on bare feet, provides insulation for cold homes, and come in a wide variety of fun colors, making it an excellent flooring choice. Additionally, it is much less slippery than wood flooring and provides sound absorption. When choosing a carpet, it is important to choose a high quality one. However, carpets collect dirt and dust, especially after a long winter. Unlike other flooring types, carpet keeps drafts from blowing dust through the air—something that can worsen allergies. Carpets can be easily cleaned, so In many ways the pros of carpet flooring outweigh the cons. When your carpet needs to be cleaned professionally, you have a few options. You can do it yourself, rent carpet cleaning equipment, or hire a professional, like Lincoln Office Cleaning! While each option is great, we highly recommend hiring an experienced professional, as we can help maintain the life of your carpet and clean even the toughest messes. It will also help save you valuable time and effort. Frequent cleaning will lengthen the lifespan of your carpet and help keep allergens and bacteria from building up.
Why Lincoln Office Cleaning For Commercial Carpet Cleaning
Here at LINCOLN OFFICE CLEANING, we take pride in our carpet cleaning services. Whether you need office carpet cleaning, industrial carpet cleaning, or commercial carpet cleaning services, we are the place to call. With years of experience and countless dedicated, expert workers, we guarantee you a spotless floor that you and your staff will love. It's our belief optimal work is performed when surrounded by a clean, tidy environment. However, it can be hard to find the time in the day to achieve that on your own. That is where we come in.
Commercial Chemicals
Every office needs a professional look, and carpeting is critical. With our office carpet cleaning, your office will set the stage for you to impress your clients.
Industrial Equipment
Our professional grade carpet cleaning equipment will help keep your floor clean and spotless. Your toughest carpets and tiles are a challenge we are glad to face.
Complete carpet care services for large office buildings
When you entrust your commercial carpeting to Lincoln Office Cleaning for carpet cleaning services, you will always be getting a customized clean. We take into account the age, type and pile of your carpet in order to ensure that not only is your carpet kept free of dust and dirt; but that it is also cleaned in the best possible way for your particular flooring. Why do we care so much about making sure your carpet is given the best clean possible? 
Because at Lincoln Office Cleaning, we know that your carpeting is an investment. We are here to protect your investment; not only saving you time but also saving you money by prolonging the life of your carpeting. Our team of maintenance and cleaning specialists will work hard to make sure that the dust, crumbs and debris brought in by customers and and employees is removed using our industrial vacuums. For carpet stains, our team knows just how to get stuck in muck and discoloration out of your carpeting and has the best products to do it. When it comes to tracking in mud and grime, the Lincoln NE weather certainly takes its toll on carpeting. At Lincoln Office Cleaning, we make sure that all of our carpet cleaning team members are specially trained in order to ensure that your carpets are kept looking their best.
Firth NE Commercial Carpet Cleaning Services near me
Hallam NE Commercial Carpet Cleaning Services near me
Hickman NE Commercial Carpet Cleaning Services near me
Lancaster County Commercial Carpet Cleaning Services near me
Lincoln Nebraska Commercial Carpet Cleaning Services near me
Malcolm NE Commercial Carpet Cleaning Services near me
Milford NE Commercial Carpet Cleaning Services near me
Panama NE Commercial Carpet Cleaning Services near me
Seward County Commercial Carpet Cleaning Services near me
Seward NE Commercial Carpet Cleaning Services near me
Staplehurst NE Commercial Carpet Cleaning Services near me
Utica NE Commercial Carpet Cleaning Services near me
Walton NE Commercial Carpet Cleaning Services near me
Waverly NE Commercial Carpet Cleaning Services near me
Omaha NE Commercial Carpet Cleaning Services near me
Bellevue NE Commercial Carpet Cleaning Services near me
Council Bluffs Ia Commercial Carpet Cleaning Services near me
LET US HELP YOU KEEP YOUR OFFICES CLEAN AND TAKE YOUR BUSINESS TO THE NEXT LEVEL